The War Time Ondina
I sailed on the new Ondina in 1962 and which was built after that the War Time Ondina had been taken out of service in 1959. As the latter has a quite famous war time history I found it useful to dedicate a special web page to this heroic ship. I sailed as a Radio Officer on the following Shell tankers Kermia (two full years at a stretch), Kabylia, Sunetta, Ondina and Kylix. For an overview of all the ships I sailed on please visit my Marine web page.
Noteworthy is to mention that I sailed on the tanker ms Mijdrecht which war time predecessor also made considerable fame by circling and ramming the U-90 after being torpedoed by the same sub which sunk somewhat later. Quite a brave act for a crippled ship in such precarious situation.
I must apologize for the fact that this web page is bilingual for the time being. For the Dutch readers it is generally no problem. Time permitting I will create a Dutch and English version.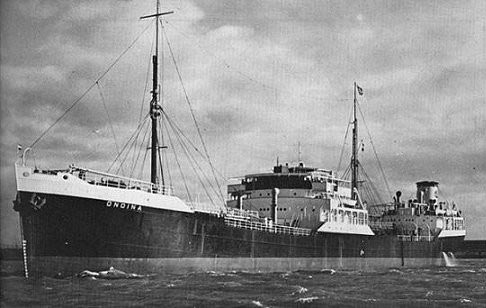 The motor tank ship 'Ondina', commissioned in 1939, the predecessor of 'my' Ondina (Photo collection Shell-tankers) and built by Nederlandsche Dok Mij., Amsterdam (6341grt, 136x16m, 12 knots). The ship was owned by Shell's subsidiary Petroleum Mij. La Corona. The ship survived an heavy engagement with two Japanese commerce raiders in the Indian Ocean on November 1942 sinking one of them with the single gun mounted aft on the ship. The vessel was scrapped at Hong Kong in 1959. Sister ships were: ELUTA, ENA, ERINNA, ETREMA, EULOTA, OCANA, OLIVIA, OMALA, ONOBA, OSCILLA, OVULA and Anglo Saxon owned ELONA, ENSIS, ERODONA, EULIMA, MACTRA, OPALIA, OTINA, OVATELLA, PELLICULA, SEPIA, SIMNIA, SITALA, SOLARIUM, STANDELLA, TRICULA. La Corona started as a subsidiary in 1912.

This is a very nice drawing of the old Ondina.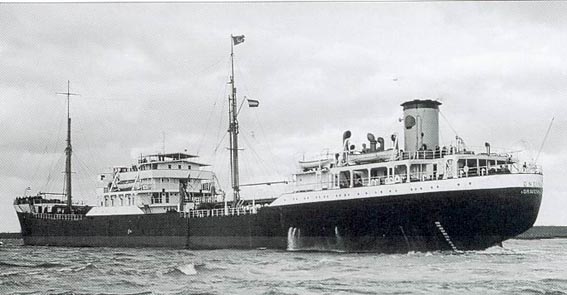 Another picture of the Ondina taken from a different angle. The ship came into service in 1939 and was a very modern ship for that time.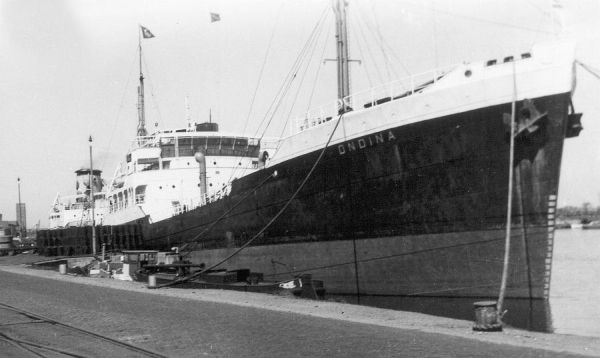 The Ondina seen here in a unknown port.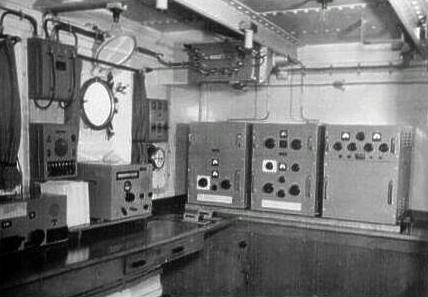 The radio room on board the 'old' war time 'Ondina' as it was in 1953. From left to right the N.S.F. (Nederlandse Seintoestellen Fabriek, later taken over by Philips) emergency receiver H2L7U (hardly visible), the Marconi receiver CR300 and the PTI (Philips Telecommunications Industry) medium and short wave transmitter SMZ 218/219, output on short wave 100 Watts. The equipment was installed some time after 1945 and is not the equipment the Ondina sailed with during World War II. Who has a photo of the station at that time?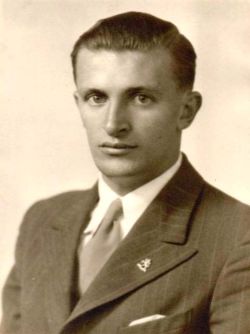 Radio Officer Rudolf Wouter van Gelderen. The picture was taken in New York in1944.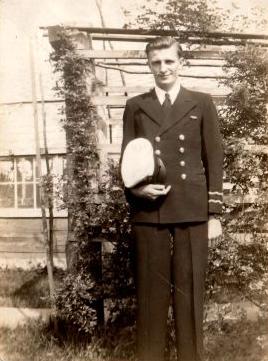 Another picture, this time in uniform, also taken in New York in 1944.
A previous 'Ondina' (6.341 gross) built in 1939 sailed during the second World War. At that time the ship owners were 'La Corona" (The Crown), part of the Shell Group. In the Indian Ocean, about 500 miles southwest of Christmas Island and Strait Soenda, on the voyage from Fremantle to the port of Abadan in what is now Iran, the ship was attacked by two Japanese semi cruisers (raiders), the 'Hokoku Maru' of 10.439 gross and de 'Aikoku Maru' of 10.437 gross. The Ondina had only one 10,2 cm gun on board and limited ammunition supply. There was also some anti aircraft guns on board. The ship was escorted by the British-Indian minesweeper 'Bengal' of 743 tons, with only one 7,5 cm gun on board. The two Japanese ships were known as 'raiders' and had intercepted earlier that year the 'Genota' also of the Shell Group and brought the tanker to Singapore, where the ship's crew was interned in a Japanese prisoners camp. What happened is described in detail in Dutch hereunder. The Japanese ships started barraging the Ondina. at 12.05 in the afternoon on November 11, 1942. While being shelled continuously and without a proper gun sighting and by estimation only, the second officer starting firing slowly at one of the raiders. His fifth and six shot were direct hits and that raiders steamed away, smoking heavily in an easterly direction. What followed was an enormous explosion on board that ship. The other raider continued firing on the Dutch tanker, which resulted in a lot damage. A part of the mast came down and disabled the transmitting aerial. The radio officer was just sending a distress call but was forced to abort. At 12.45 hours all ammunition was used. Preparations were made to leave the ships, secret papers were destroyed, white flag hoisted. At 13.00 hours the ship's bridge took a hit, killing captain Horsman instantly. He was only 33 years. While the 55 crew members went into the boats the other raider closed in and fired two torpedoes which hit the tanker in the starboard side. The raider 'Aikoku Maru' approached the boats and in true Japanese war-time fashion began from a short distance machine gun firing the crew in the boats. Many jumped into the water. Chief engineer J.J. Niekerk was killed and several crew members were found lying heavily of lightly wounded in the boats, not all had time to jump over board. Two Chinese crew members were eaten by alive sharks while lying in the water. The raider steamed back to the sinking other raider to pick crew members and once more came back to shoot at the surviving crew members of the Ondina. They must have been pretty pissed off by the fact that a 'harmless' merchant ship had sunk a heavily armed cruiser, loosing a lot of lives in the process. Once more the survivors jumped into the shark infested waters. The raider rounded it off by firing another torpedo on the Ondina, but that one missed, and steamed away. The 'Hokoku Maru' 's bow rose high and the ships went down. There they were in a couple of shot up life boats, at last alone again on the Indian Ocean. As the Ondina was still afloat, the second officer decided to board the ship for food and drinking water at 19.00 hours. He inspected the ship first and found that the torpedoes had hit the number 2 tank on starboard, but the ship seemed to stable. Remember that a tanker has per definition a lot of tanks, all separated from each other. The thing to do was to put a torpedo into the engine room. Once filled with water that alone could pull down a tanker easily. Furthermore the second officer's estimation was that the fire could be extinguished and that the engine room seemed to be in good condition. Those findings were rather astonishing considering all and the remaining crew went on board again, extinguished the fire and at 21.30 hours the engines were started again! The remaining surface raider had done a very unprofessional job by not making sure that the Ondina went down. One can only guess at the circumstances which led to their speedy departure. Anyway they probably had a lot of explaining to do how this could have happened. Six days later the Ondina arrived at Fremantle again. The ships was repaired and decommissioned later. A bit late, on August 28, 1948 the second officer B. B. Bakker and Captain Horsman (posthumously) received the MWO (Militaire Willems Orde), the highest distinction possible and seldom awarded. One disturbing aspect in my opinion was that in the story in Dutch the role of the 'Bengal' (the mouse escorting the elephant!) is not mentioned any further. I searched the internet a bit and came up with some information on this from the site. I repeat the part which touches the subject:
After leaving the scene, Bengal set course for Diego Garcia, where the captain reported the Ondina and one enemy AMC sunk. Bengal's captain was right about one thing, the Hokoku Maru had indeed sunk, but after Bengal had disappeared behind the horizon, Ondina was still steaming around at full speed. Not built as a warship, she had only a small stock of ammunition. Aikoku Maru closed the range to 3500 meters, and placed several hits in the following minutes, one of which was observed by the Bengal. Ondina herself had only 12 shells left, four of which she fired at the Hokoku Maru, the rest at Aikoku Maru, apparently without placing a hit. A last attempt to escape by dumping smoke-buoys overboard failed, and the captain ordered the crew to abandon ship to avoid further bloodshed. The engines were stopped, the lifeboats lowered and a white flag was hoisted, all under continuous fire from the Aikoku Maru. A few moments later, captain Horsman was killed by a piece of shrapnel from a shell hitting the bridge. Two lifeboats and two rafts were lowered into the water and later, another lifeboat was in the water with the remainder of the crew. Most of the crew ( with the exception of officers and gun crew ) consisted of Chinese, and they had been troublesome during the whole action, refusing any assistance that might help save the ship. This also happened on board other ships. Another example is the mutiny of the Chinese crew on board the Shell Tanker Macuba in Tripoli in May 1945. Radio Officer F.F. van Doornik describes this incident in some detail in an account of his war time experiences. The Macuba left from Tripoli to Port Said less the Chinese crew. The Canadian gun crew was at the ship's helm and in the galley etc.
Although the 'escort ship' fled away, as it seems, leaving the Ondina to its fate, the captain of the 'Bengal' later gallantly claimed the hit which was responsible for the sinking of the Hokoku Maru! I cite once more, but you can also see for yourself on the mentioned web site:
Very few questions remain concerning this clash, but the most important is who fired the fatal shot? Answering this question is difficult, as both the Ondina and Bengal claimed to have scored the fatal hit and this mystery may never be solved. The Japanese themselves thought it was the Ondina. According to them, her shell hit the starboard torpedo-launcher, causing the torpedo to explode. At the time, the Bengal was given the benefit of the doubt, according to the author of my main source as an attempt to use this battle for propaganda in India, where the British had a lot of trouble keeping the people under control.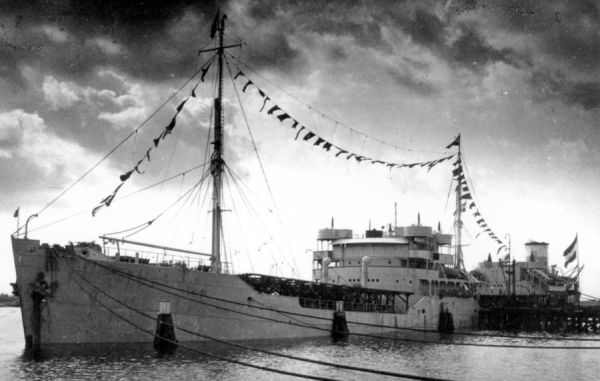 The Ondina moored and flagging for some unknown occasion. Note the anti-aircraft gun turrets on the topdeck amidships.The 102 mm U.S. Navy issue gun which sunk the "Hokoku Maru" which placed aft.
Japanese raiders
Japanese raiders were converted merchant ships which would often use their comprehensive armament to cause havoc in the Indian Ocean against Allied shipping. In 1940, two passenger-cargo vessels of the Osaka Shipping Line were requisitioned for conversion to Armed Merchant Cruisers (AMC)s, in anticipation of the likely thrust southward by the Japanese. The Aikoku Maru and Hokoku Maru, under construction for the route between Japan and South America, started their rebuilds in 1941, by the time they were commissioned, they were significantly armed

After the March 1942 re-armament at Kure the ship carried the following weaponry during the battle in November 1942:
8 x 140 mm/50 caliber guns
2 x 80 mm caliber guns
4 x 25 mm caliber guns
4 x 533 mm TT (2x2) caliber guns
And also:
2 Mitsubishi F1M2 "Pete" Type 0 observation seaplanes, each with a Mitsubishi "Zuisei 13" 875 hp engine, armed with 2 fixed forward firing Type 97 machine guns, 1x flexibly mounted rearward-firing Type 92 machine guns and 120 kg of bombs.
The picture taken in 1942 in Singapore shows the Japanese raider "Aikoku Maru". The "Hokoku Maru" which was sunk by the Ondina was identical to this ship. The Mitsubishi observation seaplane is probably located above the poop deck aft.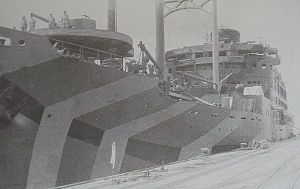 The "Hokoku Maru" in Penang in 1942.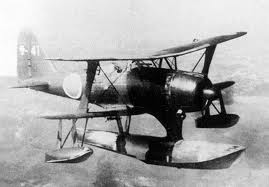 The Mitsubishi F1M2 Observation Floatplane nicknamed "Pete" was launched by catapult from the ship.Click on the picture to see a live demonstration. Quite a number was shot down in the New Ireland area off Papua New Guinea. Evidence of this which is effectionately called "Deep Pete" can be seen here. The Mitsubishi observation seaplane is probably located above the poop deck aft. here.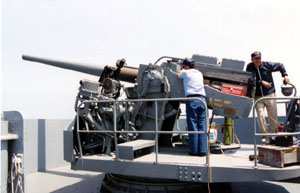 The weapons carried by the Ondina in order to defend herself were rather limited.The picture shows the same or similar type of gun mounted on the aft deck of the Ondina which sank the Hokoku Maru. The model in the picture is the 5" caliber Mark 12 on board the Victory ship "Lane Victory" which was preserved and is a rare surviving Victory declared as a U.S. National Historic Landmark.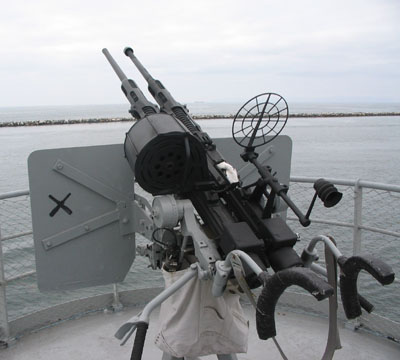 The Ondina also carried at least two Oerlikon anti aircraft 20 mm Oerlikon Twin Mount machine guns. These guns were operated by military personnel of different nationalities.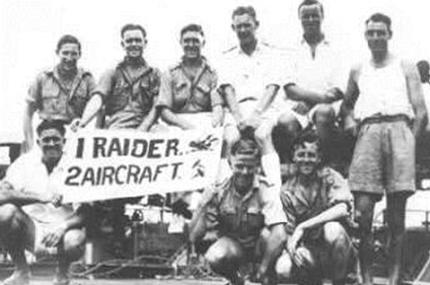 A photo of the gunnery crew which was taken after the incident in 1942. The text on the banner speaks for it self!
An article in the Dutch maritime magazine "MARITIEM GEZIEN' describing the events is given hereunder:
(MOMENTOPNAME BIJLAGE 1 MARITIEM GEZIEN 1-90 PAGINA VIII)
Hoe het motortankschip "Ondina" behouden bleef
Op 11 november 1942 voer de tanker "Ondina" (6.341 BRT) van de Petroleummaatschappij `La Corona', behorende tot de Shell-Groep, in de Indische Oceaan, ongeveer 500 mijl zuidwestelijk van Christmas Island en Straat Soenda, onderweg van Fremantle naar Abadan in Perzië. Als escortevaartuig fungeerde een van 7,5 cm. De "Ondina" was bewapend met een kanon van 10,2 cm alsmede enig luchtdoelgeschut. Beide schepen behielden een vaart van circa 10,5 mijl per uur. Naderbij gekomen, geen antwoord gaven op het herkenningssein en spoedig daarna Japanse raiders bleken te zijn. Later is gebleken dat deze beide hulpkruisers de `Hokoku Maru" van 10.439 BRT en de "Aikoku Maru" van 10.437 BRT waren. Beide hulpkruisers, zwaar bewapend met 8 kanonnen van 15 cm, enige torpedolanceerbuizen, een groot aantal stukken afweergeschut van 20 en 40 mm, alsmede elk een tweetal drijvervliegtuigen, welke per katapult afgevlogen konden worden. Beide schepen behaalden een snelheid van 21 mijl per uur. Commandanten waren respectievelijk kapitein ter zee Hiroshi Imasato en kapitein ter zee Tamotsu Oishi. Eerstgenoemde fungeerde als divisiecommandant Deze twee raiders waren dezelfde die eerder dat jaar op 9 mei 1942, de tanker "Genota" van 7.987 ton - eveneens van de Shell-Groep - onderschepten en door een prijsbemanning naar Singapore brachten. De bemanning werd in een Japans kamp geďnterneerd.
Het was een prachtige dag, helder weer en een gladde zee. De "Ondina" had een gemengde bemanning van Nederlanders, Engelsen en Chinezen. Zij stonden onder commando van Kapitein W. Horsman, die in Fremantle was opgestapt en zijn eerste reis maakte als gezagvoerder. De "Ondina" vervoerde behalve brandstof voor het escorteschip, ongeveer 240 ton graan in het ruim. Tegen 12.00 uur zag men twee schepen aan de horizon die, naderbij gekomen, geen antwoord gaven op het herkenningssein en spoedig daarna Japanse raiders bleken te zijn. Later is gebleken dat deze beide hulpkruisers de "Hokoku Maru" van 10.439 BRT en de "Aikoku Maru" van 10.437 brt waren. Beide hulpkruisers, zwaar bewapend met 8 kanonnen van 15 cm, enige torpedolanceerbuizen, een groot aantal stukken afweergeschut van 20 en 40 mm, alsmede elk een tweetal drijvervliegtuigen, welke per katapult afgevlogen konden worden. Beide schepen behaalden een snelheid van 21 mijl per uur. Commandanten waren respectievelijk kapitein ter zee Hiroshi Imasato en kapitein ter zee Tamotsu Oishi. Eerstgenoemde fungeerde als divisiecommandant. Deze twee raiders waren dezelfde die eerder dat jaar op 9 mei 1942, de tanker `Genota" van 7.987 ton - eveneens van de Shell-Groep - onderschepten en door een prijsbemanning naar Singapore brachten. De bemanning werd in een Japans kamp geďnterneerd.
Goed geschoten...
Deze gegevens overwegende, kan men zich een voorstelling vormen van de ongelijke strijd die stond te wachten. Ofschoon de "Bengal" naar de "Ondina" seinde zich uit de voeten te maken, bleef de "Ondina" haar koers houden. Om 11.54 uur verbrak de "Bengal" de kiellinie en draaide achter de Nederlandse tanker om, de vijand tegemoet. Om 12.05 openden de Jappen het vuur met een schot voor de boeg, waarop kapitein Horsman om 12.10 uur order gaf terug te vuren. De tweede stuurman fungeerde als stukscommandant en was op zijn post bij het kanon op het achterschip. Hij schoot voorzichtig en langzaam toen de Jappen binnen zijn bereik waren gekomen, op nog geen vier mijl. Deze gaven vervolgens zwaar vuur af, eerst op de mijnenveger en later ook op de tanker. De tweede stuurman verklaarde later: "Ik was zo gelukkig bij mijn positieven te blijven. We schoten terug, omdat wij beschoten werden, maar richtmiddelen en al dat andere waar een oorlogsschip over beschikt, hadden we niet, Ik heb er steeds een liefhebberij in gehad afstanden te schatten en me daarin geoefend, zodat ik er routine in kreeg. Daardoor kon ik op het gevoel de correcties aanbrengen. Het vijfde schot was een voltreffer. De correcties waren dus voortreffelijk geweest, het gevoel zuiver. Vermoedelijk had het escortevaartuig een of meer treffers gekregen. Het draaide af en stoomde zwaar rokend in oostelijke richting weg. De "Ondina" was toen alleen, maar de gezagvoerder zette de strijd voort, die enerzijds zo ongelijk was, maar anderzijds zo succesvol zou eindigen. Het vijfde schot van de "Ondina" bleek dus een voltreffer te zijn en het zesde eveneens, een in het voorschip en het andere in het achterschip van de Japanner. Even later constateerde men een geweldige ontploffing aan boord van de "Hokoku Maru", die daarop snel vaart minderde en tenslotte gestopt bleef liggen, hevig brandend. Het andere Japanse schip bleef echter doorvuren en aan boord van de tanker ontstond een grote ravage. Een der reddingboten werd uit de davits buiten boord geschoten, de maststeng kwam omlaag en sleepte in zijn val de antenne mee, zodat de marconist R.W. van Gelderen, die juist bezig was geweest met het verzenden van een noodsein, gedwongen was op te houden. Om 12.45 uur had de tanker al haar ammunitie verschoten en dit maakte het schip uiteraard hulpeloos zodat de gezagvoerder besloot order te geven het schip te verlaten en in de boten te gaan. Alle geheime papieren werden over boord gezet en men hees de wufte vlag, ten teken van de overgave. Ten 13.00 uur kreeg ook de brug een treffer, waarbij gezagvoerder Horsman dodelijk werd getroffen. Hij werd slechts 33 jaar.
Op dit moment ben ik in contact met Huib van Gelderen, de zoon van de marconist Rudolf Wouter van Gelderen van de Ondina die door een zoekactie op het internet op deze pagina terecht kwam. Zoals meestal het geval is wilde ook zijn vader nooit praten over zijn ervaringen opgedaan tijdens de oorlog. Na zijn overlijden heeft de familie onlangs veel brieven e.d. gevonden en Huib heeft mij beloofd hierop terug te komen als hij interessante informatie heeft.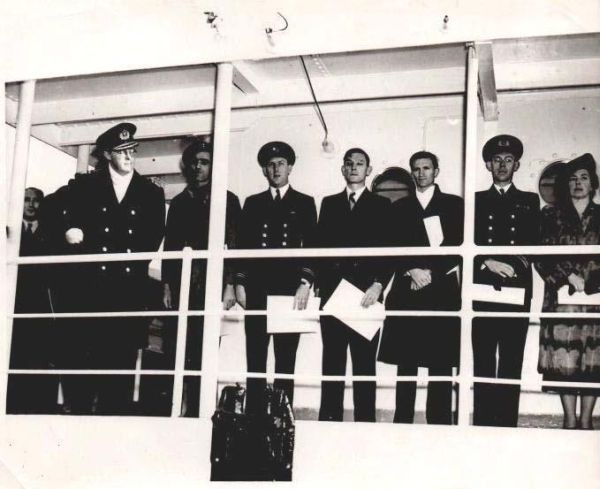 The picture was taken on the occasion of the awarding of the Bronze Crosses to several crew members. To the left is Prince Bernard who personally awarded the crosses, next to him is the Britisch gunner Hammond. Rudolf Wouter van Gelderen is the fifth person from the left.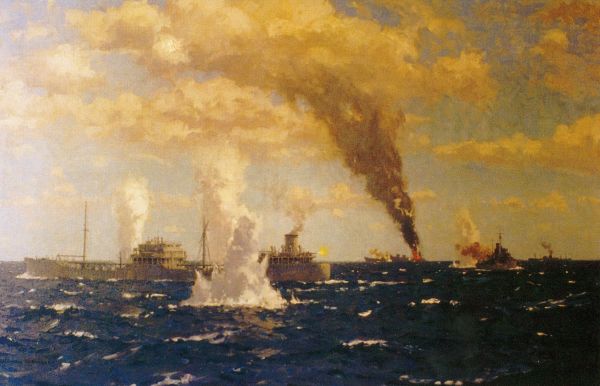 Schilderij van het zeegevecht op 11 november. 1942 tussen de "Ondina" en de twee Japanse hulpkruisers, ter hoogte van de Christmas Eilanden. Schilderij van Norman Wilkinson (fotocollectie SheIl Tankers). Dit schilderij hing op de Ondina waarop ik gevaren heb in het trappenhuis in de midscheeps.
Painting of the battle which took place on November 11, 1942 between the Dutch Shell Tanker "Ondina" and two Japanese semi cruisers (raiders) near the Christmas Islands. Painter is Norman Wilkinson (photo collection Shell Tankers). This painting was hanging in the staircase amidships the new Ondina.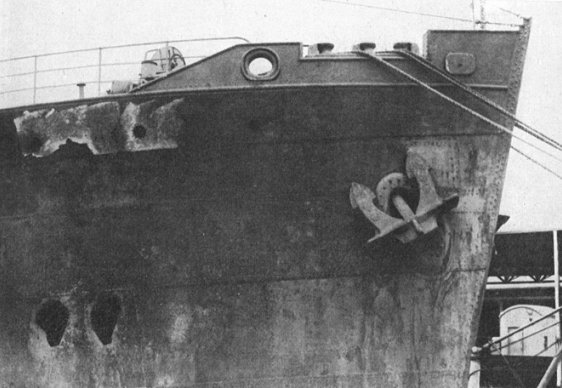 Clearly visible are the holes caused by Japanese shells which hit the galant Ondina. It is not very accurate sloppy shooting. The ship will not be sunk by these hits which are too high and also in an empty forward bow compartiment.
The following crew members were killed during the hostilities:
W. Horsman
J.J.F. Niekerk
Soo Fuiy
Fung Kam
Ho Chung
Master
Chief Engineer
Chinese Stoker
Chinese Stoker
Chinese Stoker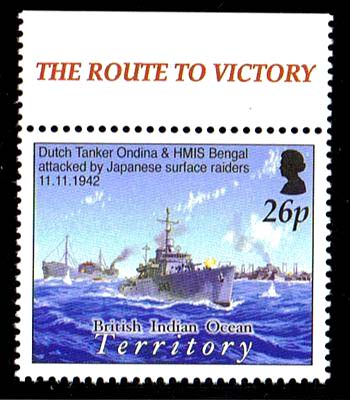 In remembrance of the heroic battle a stamp was issued by the British Indian Ocean Territory.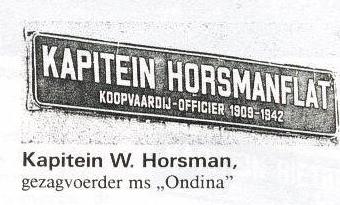 In remembrance of captain W. Horsman a flat building in the city of Zwijndrecht was named after him. A somewhat peculiar non maritime object was chosen by the City Council for this purpose.The rather terse text underneath states: Merchant Marine Officer 1909 - 1942.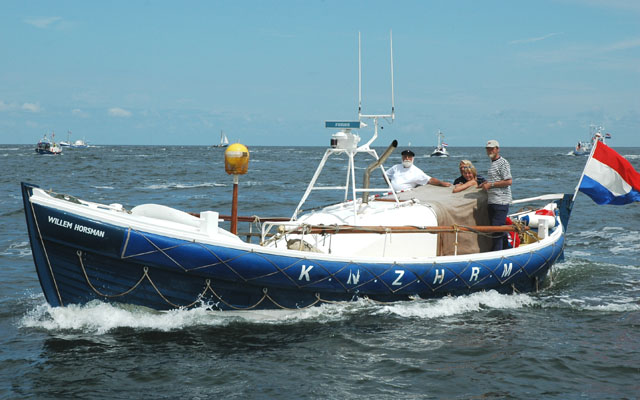 More appopriate was the use of Willem Horstman's name for the naming of a new lifeboat. It was a gift from the Bataafsche Petroleum Maatschappij (BPM) at the occasion of the handing over of the Dutch Shell Tanker Vasum to the Owners.

Aanval op schipbreukelingen

In sloepen en vlotten verwijderden de 55 opvarenden zich van hun schip, terwijl het Japanse schip steeds dichterbij kwam. Zijn bedoeling werd snel duidelijk. De raider vuurde twee torpedo's af, welke de tanker aan stuurboord troffen. Maar daarmee achtte de Japanner zich nog niet van zijn taak ontslagen. Hij voer op de vlotten af en opende een meedogenloos mitrailleurvuur op de weerloze drenkelingen, die het vege lijf trachtten te reden door over boord te springen. De hoofdmachinist, J.F. Niekerk, werd echter gedood en er bleken verscheidene zwaar- en lichtgewonden in de boten te liggen. De hoofdmachinist kreeg van de tweede stuurman een zeemansgraf bezorgd. Twee Chinese schepelingen werden het slachtoffer van haaien. Dit weerzinwekkende en laffe gedoe duurde echter niet lang, want de Japanse raider "Aikoku Maru" toog verderop naar het wrak van de "Hokoku Maru" om in haar nabijheid de drenkelingen daarvan op te pikken. Toch kwam hij daarna weer terug, waarop de meeste drenkelingen in zee sprongen om zich achter de sloepen te verbergen. Weer vuurde de raider een torpedo af, welke evenwel miste en toen stoomde hij om de noord weg. De grootste Japanse raider rees met het voorschip recht omhoog, om vervolgens in de golven weg te zinken. Met haar verdween vermoedelijk de Japanse divisiecommandant. Voor de schipbreukelingen van de "Ondina" zag het er op dat ogenblik niet al te bijster rooskleurig uit. Zij dreven in doorzeefde sloepen op zee rond en het zag er niet naar uit, dat er op deze breedte spoedig hulp zou komen opdagen.

Schip toch nog behouden!

Om 19.00 uur ging men op voorstel van de tweede stuurman terug naar het nog steeds drijvende schip om proviand en drinkwater te halen. Ook was daar nog de werkboot, die geheel intact was gebleven. Aan boord gekomen bleek dat in tank 2 de beide torpedo's tot ontploffing waren gekomen en het voorruim twee voltreffers had gekregen, doch dat het schip niet dieper weg zonk, dat de brand geblust kon worden en dat ook de voortstuwingsinstallatie nog kon werken. Dit alles was min of meer verbijsterend. Het betekende immers, dat er niet veel behoefde te gebeuren om het schip weer te laten varen, in welke pogingen men ten 21.30 uur was geslaagd. Zes dagen later liep de "Ondina" weer de (dichtstbijzijnde) haven van Fremantle binnen. Het schip bleef voor de vaart behouden.

Strijdende handelsvloot

Het feit dat een tanker met één enkel karion de strijd aanbindt met een tweetal zwaar bewapende raiders, er één van in de grond boort en er tot slot nog in slaagt om - zij het dan zwaar gehavend - behouden binnen te brengen, heeft uiteraard ook in die oorlogsjaren grote belangstelling getrokken. Het treffen haalde vooral in de Verenigde Staten de krantenkoppen. Maar niet alleen in de vrije wereld, doch ook in Nederland kon men kennis nemen van dit wapenkundig feit. In de "Wervelwind" van november 1943, een blaadje verspreid door vliegtuigen van de R.A.F, gericht "aan alle Nederlanders in Nederland", werd o.a. over de "Ondina" geschreven onder de kop "Holland's strijdende handelsvloot". De Nederlandse zeelieden lieten weer eens van zich spreken en zij deden dat op een originele manier. Ook naderhand heeft het bevrijde vaderland niet nagelaten aan de opvarenden én het schip de zozeer verdiende waardering te schenken.

Eervolle vermeldingen

Op 8 november 1948 lag de "Ondina" aan de Rotterdamse Parkkade afgemeerd en bracht Z.K.H. Prins Bernhard een bezoek aan het schip. Aan de achterzijde van de brug werd door hem een bronzen gedenkplaat onthuld, met daarop vermeld de onderscheiding die het schip en daarmee de bemanning, te beurt was gevallen, namelijk de Koninklijke Vermelding bij Dagorder.

Voorts werd bij Koninklijk Besluit van 28 augustus 1948, nummer 49, aan de Luitenant ter zee Speciale Diensten der 2e klasse KMR 0V B.B. Bakker, de toenmalige tweede stuurman van het m.s. "Ondina", de Militaire Willems Orde der 4e klasse toegekend. De mutatie van het Besluit luidde als volgt:

"Wegens het zich in de strijd onderscheiden door het bedrijven van uitstekende daden van moed, beleid en trouw, door als tweede stuurman van het motorschip "Ondina ", hetwelk slechts voorzien was van een kanon van 10,2 cm, op 11 november 1942 in de Indische Oceaan, tezamen met de begeleidende mijnenveger van de Royal Indian Navy, na toestemming van zijn gezagvoerder, onder gevaarlijke omstandigheden de strijd aan te binden met twee overmachtig bewapende Japanse hulpkruisers, door een vuurgevecht aan te gaan en te leiden, tengevolge waarvan een Japanse hulpkruiser tot zinken werd gebracht, waarmede aan de vijand een gevoelig verlies werd toegebracht; voorts door, nadat de munitie verbruikt, de gezagvoerder gesneuveld, het zwaar beschadigde Schip verlaten en de bemanning in de sloepen beschoten was, waarbij enige doden en gewonden vielen, na vertrek van de overgebleven Japanse hulpkruiser op eigen initiatief en ten volle bewust van de nog dreigende grote gevaren voor Schip en bemanning, met enige vrijwilligers aan boord terug te gaan en na onderzoek het schip recht te trimmen, waarna ook de overige bemanning kon terugkeren, als gevolg waarvan het zwaar beschadigde schip behouden in een Australische haven kon worden binnen gebracht".

Dat de heer Bakker als marineofficier zijn Militaire Willems Orde in ontvangst nam en niet als bemanningslid van de "Ondina", is als volgt te verklaren: in 1948 verliet hij de rederij en trad in dienst bij de Koninklijke marine als luitenant ter zee. In 1968 ging de heer Bakker met pensioen als kapitein-luitenant ter zee. Op 16 mei 1988 overleed hij in de leeftijd van 79 jaar.

Aan de gezagvoerder, kapitein W. Horsman die in deze strijd sneuvelde, viel de Militaire Willems Orde postuum ten deel. De eerste stuurman, M.J. Rehwinkel die het commando over het Schip op zich had genomen en de tanker veilig in Fremantle binnen bracht, ontving de Bronzen Leeuw en verscheidene andere opvarenden kregen het Bronzen Kruis. Twee leden van de bemanning ontvingen het "Distinguished Service Cross" (D.S.C.).

`Hoe deden zij het?'...

Dit zijn de nuchtere feiten, welke tezamen het relaas vormen van hetgeen zich op die die november 1942 ergens in de Indische Oceaan afspeelde. Achter de vraag "hoe men het deed" steekt echter veel meer dan deze simpele en nuchtere regels kunnen weergeven. Vanaf het ogenblik, dat de twee masttoppen aan de horizon zichtbaar werden, tot het moment dat het zwaar gehavende schip weer moeizaam voortkroop, ligt een verschrikkelijke gebeurtenis diep gegrift en geëtst in het geheugen die nooit vergeten kan en mág worden. Hoe vaak zullen die eenvoudige woorden: "Voor moed, beleid en trouw" aan een beschouwing onderworpen zijn? De tweede stuurman van de "Ondina" was zo gelukkig bij zijn positieven te blijven. Dat betekent moed. Hij kon blijven denken. Dat wil zeggen, dat hij handelde met beleid. "Trouw" wil zeggen, dat deze hoogste militaire onderscheiding vereist, dat men blijft doorgaan, blijft volharden, niet opgeeft als de omstandigheden veranderen. "Trouw" betekent echter iets meer dan alleen maar stug doorzetten en niet willen opgeven. Het duidt op een diep gevoel van onversaagdheid tot het uiterste. Zo ook hier. Het schip was getorpedeerd, de opvarenden waren in de boten gegaan, de tegenstander kwam terug en mitrailleerde de schipbreukelingen. Maar de tweede stuurman keerde terug naar de mensen die op de vlotten rond dreven, gaf de gesneuvelde hoofdmachinist zijn eervol zeemansgraf en ging terug naar het schip om de werkboot en proviand op te halen. Hij inspecteerde het schip, dat niet dieper wegzonk en begon handelend op te treden. Hij redde het schip! Al deze gebeurtenissen speelden zich in een kort tijdsbestek snel achter elkaar af. De normale reactie zou zijn geweest: "Vastvuren en geef je over, want de Japanners waren zeer zwaar bewapend". Deze man vertelde later: "Het was een idioot gezicht die regen van granaten op dek, maar wij hadden er geen last van bij ons kanon!" Geen last! Dat wil zeggen, dat deze stukscommandant en zijn bemanning hun werk deden zonder op die dingen te letten die voor hen op dat ogenblik bijkomstigheden waren. Het vuur, dat de hoofdbatterijen van de twee Japanse raiders op hen richtte, was strikt gezien inderdaad een bijkomstigheid zolang zij er geen last van hadden, zodat zij zelf konden voortgaan met vuren. Zij deden dit, omdat het hun taak was, zij bleven vuren uit hoofde van een sterk gevoel van zelfzucht en discipline. Dit was een koopvaardijschip en deze mensen waren geen van allen militair. Da's meer dan razend knap en stoutmoedig en hoe zij het deden is dan van onderschikt belang. De bij de aanhef van deze kolom gestelde vraag kan derhalve beter bevestigend worden gelezen: "Zij déden het!"

(TEKST: CHIR. MARK, CAPELLE AAN DEN IJSSEL;

BRONNEN: L.L.VON MUNCHING, KONINKLIJKE SHELL TANKERS, ALLE HENS 2/1950; FOTO'S: SHELL TANKERS)

MOMENTOPNAME BIJLAGE 1 MARITIEM GEZIEN 1-90 PAGINA VIII

Noteworthy to mention is the fact that the Ondina was the first Dutch ship to enter Rotterdam harbour after the war.

For another and also interesting war time experience on board the Dutch ships Burgerdijk and Edam, recently written down by the 85 year veteran C. de Neeff go to the following link: http://www.scheepspraat.nl/edamstory.htm On this page you can click on some of the pictures which he took from the Burgerdijk of the German U-boat that sank the ship half an hour later. The date was February 10, 1940 and thus three months before Germany declared war on Holland.