ms Serooskerk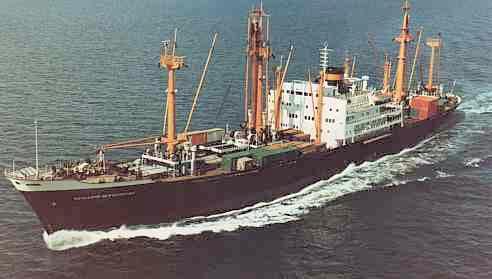 When I was on board this ship it was still called ms Serooskerk. The owners were the Verenigde Nederlandse Scheepvaartmaatschappij, short: VNS. Before our marriage my wife used to work for VNS in the head office on the Westplein in the Rotterdam Shipping Quarter situated near the waterfront. After the merger between the Koninklijke Rotterdamse Lloyd (I started my career on the passenger ship ms Sibajak of that company), the Koninklijke Nederlandsche Stoomvaart Maatschappij (KNSM) the new company was called Ned Lloyd. All ships of the companies got the prefix Ned Lloyd in front of their name and were Nedlloydized in that way. So the ship's name in this picture is Ned Lloyd Serooskerk. I stayed on board the ship only a little while, during a couple of coastal trips to Hamburg and Bremen as I remember.
Nothing much can much can be told about these mini trips back and forth. I remember one funny occasion when the Chief Engineer coming to my cabin saw a VNS letter opener on my desk and asked how I got hold of that. I got that little device much earlier from somebody and took it with me from ship to ship as personal belonging. However, on an impulse I told him instead that when visiting VNS' office just before the trip that the kind gentleman asked my whether it was the first time that I sailed for this company and I answered affirmative. Upon that and as a welcoming gesture the contraption was given to me. The Chief exploded and started foaming at the mouth so to speak. He had sailed 30 years for the company and never was offered anything at all he said and that he found it shocking that somebody who never ever sailed on such a ship was given one just like that. Indeed these things were handed out to clients and were not intended as gifts for the crew. I was impressed by his genuine rage. I was weak I must admit and did not enlighten him as his wrath surely would have been redirected into my direction then. He was going to speak to the office after return to Rotterdam, he promised me. I do not know whether he did but I never heard anything about it, so his fit must have subsided or realized that his leg was being pulled and left it at that. It shows how grown ups sometimes can make a big fuss out of hardly anything.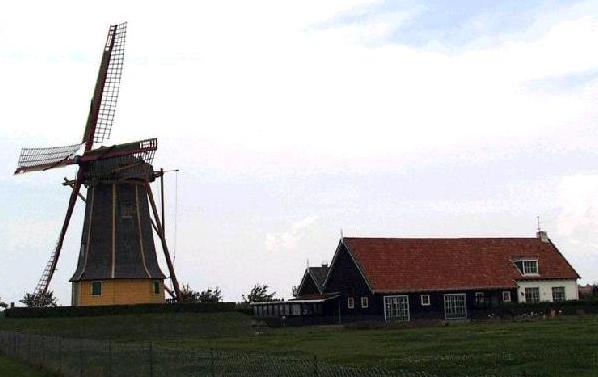 The ms Serooskerk is named after the small village on the island of Walcheren in the Province of Zeeland in the south-western part of Holland. 'Kerk' means church and the old VNS used to name their ships after villages or cities which names ended on 'kerk'. I served on another 'kerk'-ship, the ms Bovenkerk.