ss Kabylia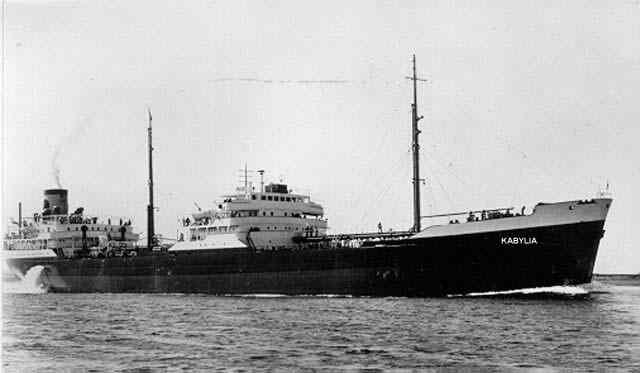 The Shell tanker ss Kabylia, call sign PFGI, was one of a series of so called Dutch K-tankers. Their names all started with the letter K and of course also being named after a sea shell. Built as a 'General Purpose' tanker by Nederlandsche Dok en Scheepsbouw Mij., Amsterdam as new build 289 (12100 grt, 169x21 m, 14.5 knots). The sea shell after which the ship was named was on board, as on all the other Shell tankers, usually in a glass box in the mess room. All K-tankers had a deadweight of - give and take - 18.000 brt. The ship was propulsed by a 7500 hp Pametrada turbine engine giving it a service speed of about 15 knots. It was equipped with 4 turbine powered cargo pumps. The Kabylia was broken up in Spain in 1984.
Sister ships were: KABYLIA, KALINGA , KALYDON, KARA, KATELYSIA, KELLIA, KENIA, KERMIA, KHASIELLA, KOPIONELLA, KORATIA, KORENIA, KOROVINA, KOSICIA, KOSMATELLA, KREBSIA and KRYPTOS owned by Shell Tankers (pre-1955 La Corona). Identical: AMELAND, KAAP HOORN, MUNTTOREN, WESTERTOREN.
I was on board this Shell tanker ss Kabylia for about one year, from May 1960 until may 1961. Anyways a bit shorter than on a previous sister ship the ss Kermia on which I sailed for two years at a stretch. In those days this was considered to be perfectly normal. Living in the amidships accommodation was very comfortable. Spacey cabins and decks, no noise from the engine and during bad weather it was the 'quietest' part of the ship. Nowadays a amidships is non-existent and all accommodation is aft. The consequence is that due to the 'stacking' of the amidships decks aft the total height is considerable more than on this type of vessel. From a safety point of view a amidships is not the best solution as it located in the middle of all the cargo tanks, so in case of an accident escape would probably be very difficult.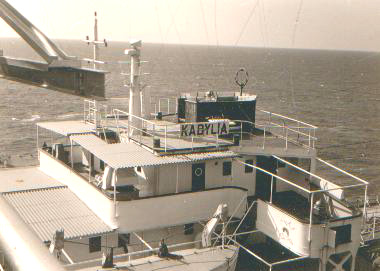 This the only picture of the Kabylia which I took it seems. I must have climbed a crane or some other contraption ashore to shoot this photo. Although the ships is moored, there is no land in sight at the horizon. I am wondering were this somewhat special place could be....
Left alone some minor differences the following standard measures of the K-series were: Length overall 169,4 m, width 21,16 m, maximum draught 9,35 m. The ships were propulsed by a 8250 HP Pametrada turbine engine. With a fully loaded vessel the speed was 14,5 knots and when in ballast 15 knots. The fuel consumption was about 50 tons per day. It was equipped with 4 turbine powered cargo pumps.
The ships such as the Kabylia were equipped with 33 cargo tanks, 11 on the starboard side, 11 midships and 11 on the port side. A total of 25.220 cubic meters cargo could be loaded. For charging and discharging the cargo four cargo pumps were available with a capacity of 500 tons per hour each. The total bunker capacity was 1650 ton. In the fore ship was room for shipping of drums which could be handled with a 5 ton winch. Another 5 ton winch was available for handling the cargo hoses. The winches fore and aft were powered by steam. The accommodation was for a crew of 55 total. The K-class tankers have carried a great variety of cargo: white spirit, black products, crude oil, lub(rication) oil and a number of ships were also suitable for transporting waxy distillations and bitumen.