ms Japara
I served only a little while on this ship during a couple of coastal relief trips to Antwerp, Bremen and Hamburg and back to Rotterdam again.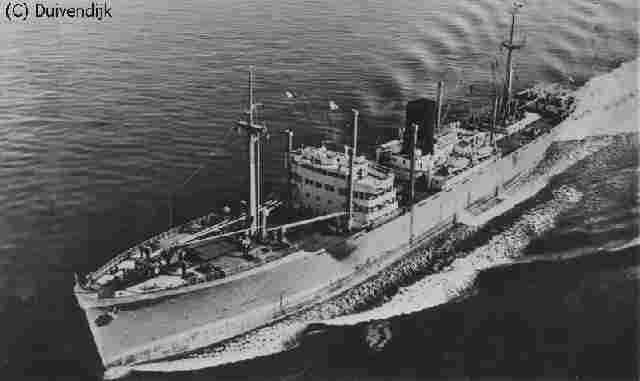 This picture of the Japara by courtesy of Leon van Duivendijk. If you click the picture you will be directed to his website which is all about ships and worth visiting.
Ship's history
The Japara was built by the shipyard P. Smit Jr. N.V. at Rotterdam and was commissioned on May 13, 1939. The loading capacity was 12.120 tons and it had an accommodation for 12 passengers.
On May 10, 1940 we were at war with the Germans. At that time de Japara was in de Indonesian harbour of Soerabaja and participated in the Java - New York Line. In October 1940 it was chartered for a trip by the Silver & Java-Pacific Line.
The Ship Requisition Act signed on June 6, 1941 allowed the Coast Guard to seize in total 84 large foreign vessels, which were in US ports at that time. One of these being the Japara.
Representatives of friendly governments under which some of these vessels were previously registered such as the Dutch Ministry of Shipping cooperated with the War Department. In many cases, crew members of other nationalities were kept on the vessels since they were familiar with the equipment, and there was a shortage of American seamen.
Before the Japara was converted into a troopship with a capacity of 1600 men in 1943 it made several voyages in the Pacific. From that time until after the war it made numerous trips in the Pacific bringing men and material to the battle fields.
Only at the end of 1946, beginning 1947 the Japara was rebuild as a normal freighter again and handed back to the owners, the Royal Rotterdam Lloyd.
The visit to the ship whilst it was moored at San Francisco by the crown princess Juliana took place at January 30, 1944. From 1960 until shortly before the sale of the ship it was chartered by another Dutch ships owner VNS, translated United Netherlands Shipping Company. It was sold on October 3, 1963 to the United Marine Shipping Association at Monrovia, Libera.
Curtains fell for this faithfull ship when it arrived on October 26, 1969 at Kaohsiung, Taiwan to be scrapped.
A quote found on the internet:
The S.S. Japara was one of two ships that transported the main body of USMC Squadron VMD-154 to Espiritu Santo Island, New Hebrides: "The main body of the squadron embarked on two ships in San Diego, the S. S. Japara and the S. S. Bloem Fontein. The former left San Diego December 2, 1942 and arrived the 23rd at Espiritu Santo in the New Hebrides. The latter, leaving San Diego the same day, December 2nd, went by way of New Caledonia where it arrived the 21st of December. It left there after Christmas on the 27th for Espiritu Santo, arriving there December 30, 1942. January 1, 1943 saw the squadron with a total of twenty-nine (29) officers and four hundred five (405) enlisted men."

Narrative written by
M. SAMPAS,
Lieutenant Colonel, U.S. Marine Corps,
Commanding