ss Atlantic Star
I remember that on one occasion I travelled with a fitting engineer by the name of Jan van der Wal in his Volkswagen, type Beetle, through Belgium to Dunkirk in French where the ship was built. Jan was already 60 but climbed the highest masts without fail. Driving in Belgium sometimes was a bit peculiar due to the fact that a number of motorways had in total three lanes. I often sat with 'curled toes' when Jan, while driving in the middle lane, decided to test his nerves against those of a driver which approached him from the opposite direction, also driving in the middle lane. I must be said that Jan also won this little contest. When I asked him not to engage in another battle he testily spoke: Those Belgium guys are all pussies, so why not.... Anyway he had found quarters in a kind of simple boarding house and not too far from the yard where an elderly lady was the cook. And what a cook she was! Hotel food could not compare to what she concocted in her little kitchen. Jan had a way with women and even patted the cook occasionally approvingly on the butt to show his appreciation and to which sign of affection she did not object. The result was that we got the best bits of food in the house and Jan thought this was only more than normal. Most of the boarders like us where yard related and from different nationalities and we had a lot of fun during dinner time. Making jokes about each others national peculiarities was part of the game. For instance Jan could speak English with a heavy German accent to mock the Germans at the table and did do that a lot much to the delight of the others, including the 'offended' party.
After putting into operation the radio room and other equipment for which I was responsible I attended the - I believe - four day sea trials. The only thing worth mentioning is the fact that the ship vibrated very heavily in any kind of condition. The vibrations where so heavy that after the ship's return some strengthening was added to make the construction of the superstructure more stiff, but to little avail as it later turned out. But then you had to build a new ship I suppose. I pitied the crew who had to live under these circumstances for 24/7. It surprised me that comparatively little damage occurred to the rather sensitive equipment during the first year after delivery.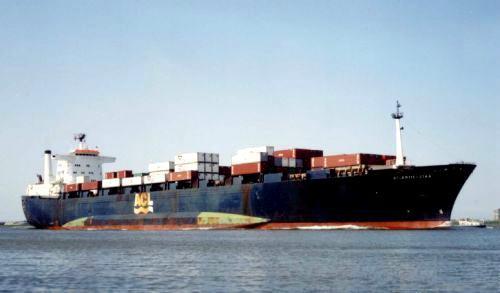 This is the RoRo/container ship type G-1 ms Atlantic Star - call sign PCVK - which was in service from 1966 to 1987. Built by the French shipyard Atelier & Chantiers de Dunkerque in 1966 as new build 255 and owned by the Holland Amerika Lijn (HAL)/Atlantic Container Line (ACL).
Gross tonnage: 11.839
Deadweight: 15.753
Total length: 197.24 m
Waterline length: 189,14 m
Width: 26.28 m
Depth: 8,84 m
Teu: 700
Propulsion: Two 9 cylinder PIELSTICK-MAN motors, 20.700 Hp/15.224 kW and twin screws
Speed: 19 knots
15/01/1973 The ship was transferred to the shipping company TRANS-OCEAAN or Transocean(HAL) and kept her name
01/1975: The ship was again transferred now to the shipping company INTERCONTINENTAL TRANSPORT (ICT), Rotterdam
1976 : Refurbishing and lengthening of the ship: Length : 223,03, W : 29,98, TEU: 1.100
02/1982 Sold to Cunard Steamship Co., Liverpool, V.K. Ship's name remains unchanged
09/1987: Broken up in Taiwan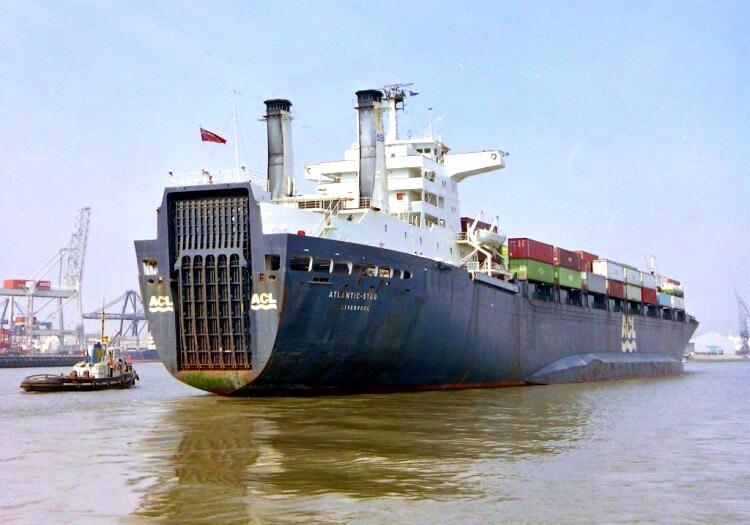 This picture shows the Atlantic Star's RoRo ramp aft.