ss Andijk
I served a short while, about a week on this vessel in July 1963. A coastal trip Hamburg and Bremen only and very little to report. Except that sometimes on these vessels a radio officer was more or less 'married', as we used to call it, to a ship and stayed on board for 5 to 10 year, effectively becoming a permanent part of the furniture. They had themselves relieved on the coastal trips only. In the end it became 'their' ship as obviously was the case here as I soon found out. Anyway this person did not even care to empty a couple of drawers crammed with his personal belongings in order to accommodate the relief guy. All drawers and cupboard were filled to the hilt with his stuff. So I emptied the contents of two drawers in a carton box and used these drawers during the coastal voyage. This was the third ship of the Holland America Lines were I served on. The other two were the ms Rijndam and ms Maasdam.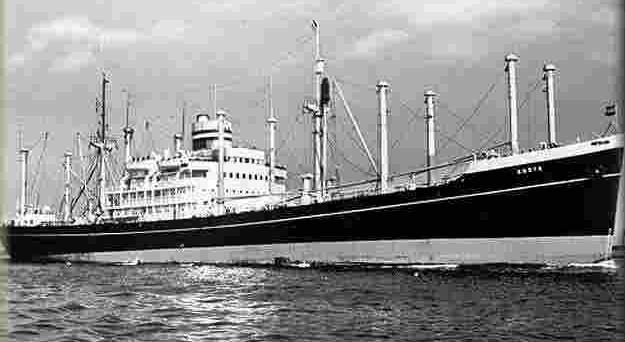 The ss Andijk - then named ss Groningen - was built in 1946 by the US ship yard Sun Shipbuilding Pennsylvania. Tonnage: 8380. The order for the ship was originally placed by the Dutch Government. The Holland America Line however took over the ship on 7th October, 1946 and renamed the ship. On 5th September, 1969 the ship was sold to Cyprus and again renamed in ss Aurora. The end came in Spain on 8th May, 1971 where the ship was scrapped.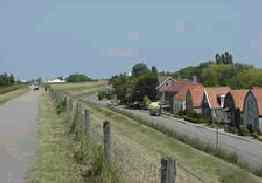 Like all the other ships of this company the ship was named after a Dutch - in this case village - in the Province of North Holland. Number of citizens: 6417. Quite an idyllic view of a part of the village. The passenger ships' names ended on 'dam' and the freighters on 'dijk'. The word 'Dam' meaning just that and 'dijk' of course Dutch for 'dyke'. Because of all the water in our country their are many places near a dam or a dyke which are named after a river in combination with 'dam' or 'dijk'. The Maasdam and Rijndam are good example, as they were named after the rivers Maas and Rijn (Rhine). The cities of Maasdijk and Rijndijk can also be found on the map.
For an overview of all the other ships on which I sailed please visit the Marine page.