ss Veendam
In 1972 the Holland America Lines purchased the s.s. Argentina (1958) from Moore McCormack Line and renamed the ship to s.s. Veendam. The ship was refurbished by the Lloyd Werft in Bremen, Germany and I arrived there on board first to inspect the radio station, later to supervise the installation of the new equipment and the commissioning of same. The Argentina carried all RCA branded transmitter and receiver equipment which I found were of an excellent quality. Amazing to me was the power of the medium wave radio transmitter. I was used to aerial currents on the frequency of 500 kHz of let's say 10 Amperes. This baby showed something like 30 Amperes on the aerial current meter. I thought that something was wrong, but no. Something like the experience as from moving from a normal 4 cylinder car to an overpowered 8 cylinder car. Technically speaking the ship could have sailed with this equipment perfectly well. However, radio requirements between countries were not harmonised in any way so we had to install new equipment which was approved by the Dutch government, but in several ways they were of a lesser quality. Nice..... Every country had its own little list op type approved equipment and there was no escape from that. Even if the equipment was identical, small required governmental changes to the equipment made it prohibitive to keep it on board or to install. For example, if the ship had been sailing under Belgium flag, our neighbouring country, then the equipment also had to be stripped and renewed. Crazy but true. But for us it was an easy way to sell some equipment.
I also attended the sea trials of the ms Prinsendam and ms Volendam (ex s.s. Brasil). Furthermore, during my sea-going days, I served as a 3rd Radio Officer on two other Holland America Line passengers ships: the ms Rijndam and the ms Maasdam.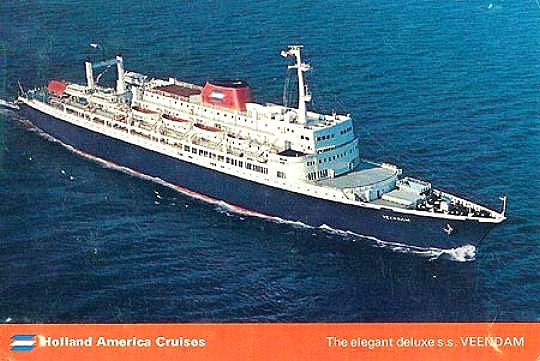 The s.s. Argentina (1958) was purchased in 1972 from Moore McCormack Line and renamed to s.s. Veendam (3). This is the 3rd Veendam in the Holland America Lines fleet. The ship was chartered in 1975 to Monarch Cruise Lines and renamed to Monarch Sun. For the technical details and the complete time line see further on.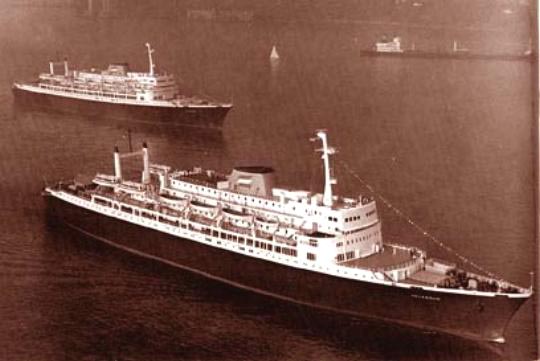 The ship in front the s.s. Volendam and at the back the s.s. Veendam. The construction at the back - two masts or dummy smoke stacks, interconnecting walkover, with another mast in the middle - has been added by the new owners probably to create a kind of s.s. Rotterdam look.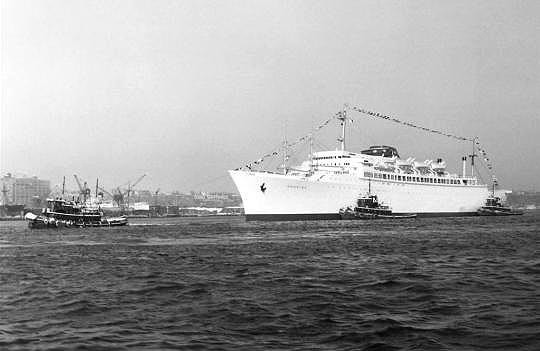 The passenger liner s.s. Argentina was built in 1958 as newbuild 468 by Ingalls Shipbuilding in Pascagoula, Mississippi and delivered to Moore-McCormack Lines on 12th December, 1958. The ship arrives in New York Harbour on her maiden voyage in New York Harbour in 1958. The Moran tug "Pauline L. Moran" is towing from the bow, with two other Moran tugs alongside.

The s.s. Brasil and the s.s. Argentina were built in 1958 by Ingalls Shipbuilding in Pascagoula, Mississippi. Ingalls is located where the Pascagoula River flows into the Mississippi Sound, strategically positioned for easy access to the deep waters of the Gulf of Mexico. The name "Pascagoula" comes from the Indian word meaning "bread eaters" because the Pascagoula tribe, unlike many others raised corn, ground it into meal, and made bread. It is worth mentioning here that the last passenger cruise ships built in the United States, the s.s. Brasil and the s.s .Argentina, were built by this shipyard as newbuilds 467 and 468 and delivered to Moore McCormack Lines in 1958.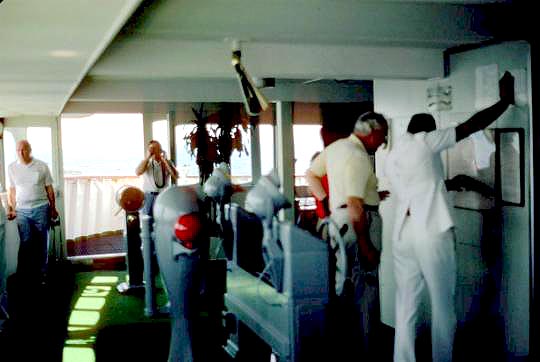 The compulsory tour of the wheelhouse as part of the passenger entertainment.

Technical details:

Dimensions: 188,22 x 25,61 x 8,30 m
Brt/ Dwt: 14984/ 8552
After the renovation 1962 Brt: 23372
Main engines: 4 General Electric steam turbines with a total power of 19023 kW
Speed: 24 knots
Number of passengers: 553 and after the renovation: 671
Cabins: 553 and after the renovation 671
IMO nr.: 5023162

Time Line:

1958 (12th March) Launching of vessel.
1958 (12th December) First voyage New York - Buenos Aires.
1963 Conversion carried out by Bethlehem Steel, Baltimore, USA.
1972 Sold to Holland Amerika Lijn, Willemstad, Netherlands Antilles and renamed to Veendam
1972 (8th September) Arrival at shipyard Lloyd Werft, Bremerhaven, German for conversion.
1973 (March) Arrival at Rotterdam.
1972 (17th July) Cruises betwen Rotterdam and New York.
1974 (14th May) Laid up in Hampton Roads.
1974 (15th December) Chartered to Agence Maritime International and renamed to Brasil ! In service with cruises from Rio de Janeiro.
1975 (April) Charter is terminated. Renamed to Veendam.
1976 Chartered to Monarch Cruise Lines and renamed to Monarch Start.
1978 Sold to Holland Amerika Lijn, Panama and renamed to Veendam.
1981 Registered in the Netherlands Antilles. Home port is Willemstad.
1984 (May) Sold to Island Navigation Corp. (Bermuda Cruise Line), Panama and renamed to Bermuda Star.
1990 (September) Sold to Commodore Cruise Lines, Panama and renamed to Enchanted Isle.
1993 (28th May) First of six cruises between Kiel, Germany and the Norwegian fjords.
1994 Laid up as hotel ship in St. Petersburg, Russia and renamed to Commodore Hotel.
1994 (August) Renamed to Enchanted Isle.
1995 Change of ownership name: New Commodore Cruise Line, Panama.
2000 (December) After bankruptcy of owners ship is laid up in Violet, Louisiana, USA (near New Orleans).
2003 (July) Sold to Global Marketing Co, Kingstown, Saint Vincent and renamed to New Orleans.
2003 (2th October) Departure from Violet, Lousiana, USA to India.
2003 (9th December) Arrival at the breakers in Alang, India. The killing field of ships.

As regards to the ship breakers in Alang, India I somewhere read the following statement: At Alang, in India, on a six-mile stretch of oily, smoky beach, 40,000 men tear apart half of the world's discarded ships, each one a sump of toxic waste. Environmentalists in the West are outraged. The ship breakers, of course, want to be left alone -- and maybe they should be.

Alang update:

June 22: As the last keel plates of the STELLA SOLARIS (ex CAMBODGE, STELLA V) and MAYAN EMPRESS (ex WINSTON CHURCHILL) are sent off to Indian smelters, the NEW ORLEANS (ex ARGENTINA, ENCHANTED ISLE, etc.) is now down to the final stages of dismantling with only a waterline height segment of her aft quarters remaining.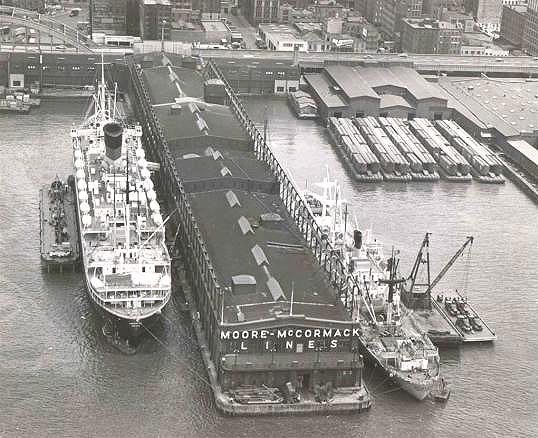 The s.s. Argentina seen here lying alongside the Moore-McCormack Canal Street Pier 32.